Chinese league have been dominating the transfer market; splashing huge sums of money on players.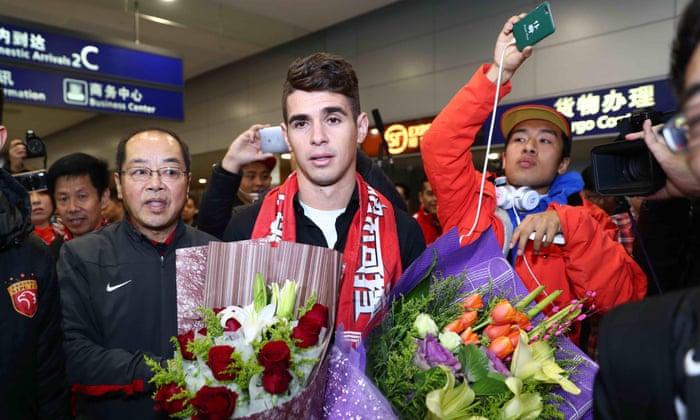 This has been a source of serious concerns to the MLS as they continue to lose bid for players to the Chinese.
Recall that earlier last year, Don Garber, Major League Soccer commissioner, had opined that the Chinese would not be able to sustain such high spending on players for long and will eventually drop their extravagant offers; therefore he didn't consider their actions as threatening to the MLS.
Unfortunately for him and the American league, the Chinese league has not lowered the intensity of their spending. In fact they have increased it over the course of two transfer windows. This fact is evident in the latest signing of Brazilian star Oscar and a mouthwatering offer for Carlos Tevez.
The latest player to be hijacked by the Chinese is Paraguayan striker Oscar Romero. Romero was previously handed a deal by Atlanta United, one of MLS team. The transfer was set at $8.5 million an amount considered to be pretty high by MLS standard.
However, a Chinese league team, Shanghai SIPG, came along with an irresistible bid that surpassed Atlanta's bid by a $14.5 sale price, plus a player salary tripling the amount offered by Atlanta United's. Consequently, the 24-year old strike had snubbed MLS move in favor of a more profitable transfer to Chinese club Shanghai SIPG.
Other star players who have dumped the stateside team for more appealing Chinese league offer include; Obafemi Martins who surprisingly left Seattle Sounders a year ago to join Shanghai Shenhua. Fredy Montero and Deshorn Brown have also found clubs in the Chinese league.
The transfer market is now fully dominated by the Chinese league, which seem to be growing in their willingness to splash big cash on player. MLS feels threating by this fact; and it high time Garber start considering the Chinese league as a major rival, instead of just a passing fade.