Mexico coach Juan Carlos Osorio says that he is aware the players who will be selected for the World Cup 2018 in Russia. Mexico are not expected to make much of an impact in the World Cup due to the colder climate. The national team had the best opportunity to make a huge impact in the previous World Cup in Brazil but the team were once again eliminated in the round of 16. Mexico have faced an exit at exactly this point in the World Cup since 1994. The last time they went beyond this stage was in 1986 when Mexico reached the quarter-finals of the World Cup, which was held on home soil.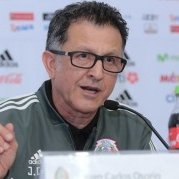 Osorio was brought to the national team after stints with the likes of São Paulo andAtlético Nacional. He came to the national team in October 2015 and will be experiencing World Cup for the first time. The 56-year-old has been able to succeed in major cup competitions like the Primera A, and he came close to winning the Copa Sudamericana in 2014. However, the World Cup is a completely different animal with the squad selection having to play a major role in the success of a team. Mexico have to take a well-balanced squad that can handle the rigours of frequent matches in a short span of time.
"I have it. I have it. And that's why I'm answering you the way I'm answering. There are three positions where I have three players and there are only two places. At the end, something will happen that will tell me, 'This is it.' The items are: Who can play where, who can play against who and who is in the best possible shape," said the Mexico coach about the upcoming World Cup selection process that he has in mind.